IonPlus Undersink Water Ionizer
The IonPlus Undersink Water Ionizer offers a large, stainless steel faucet with controls that are easy to use plus powerful ionization creating a pH range of 3.5 to 10 pH. Its multi-stage filtration system removes over 99% of contaminants from your drinking water. Its sleek design enhances any kitchen decor!

Comes with a 5 year comprehensive parts, labor, and shipping warranty. Also comes with a 60-day money back guarantee. There is a Lifetime Warranty on the plates.
IonPlus: The Pinnacle of Performance and Design
Introducing the new IonPlus Undersink Water Ionizer, offering a fully stainless steel faucet, easy to use controls, SMPS electrical system, DARC cleaning system, 7 platinum-titanium plates, and an advanced filtration system.

The IonPlus also offers the DARC cleaning system that automatically cleans your water ionizer for optimal performance. Plus, the IonPlus automatically adjusts ionization to your source water with an advanced MICOM system. This insures you'll get just the right level of ionization for whatever your needs.

Worried about heavy metals, fluoride, chlorine, leftover pharmaceutical drugs and other contaminants in your drinking water? The IonPlus takes care of all of it! It uses an 11 stage advanced filtration system, which includes super ceramic, anion ceramic, and anti-bacterial ceramic for removing the most difficult contaminants. It also includes activated carbon, carbon block and a sediment filter for getting the bigger contaminants out. The result is you get a fresh glass of alkaline ionized water every time!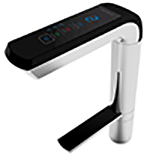 This is an investment that your whole family will enjoy and it is backed up with a five year unlimited parts, labor and shipping warranty and a 60 day money back guarantee. Water for Life USA has been distributing water ionizers for seven years and has a perfect rating with the Better Business Bureau, so you can order from us with confidence that you'll be treated right.
ONLY

$2,295.00
(SHIPPING INCLUDED)
JUST IN TIME FOR THE HOLIDAYS: 15% OFF ALL IONIZERS!
(Discount applied at checkout)
Payment Plans Now Available!
We are now able to offer payment plans through PayPal, the world's most popular, secure payment processor. Bill Me Later®, a PayPal service, lets you complete your purchase with No Payments and No Interest if paid in full in 6 months (on purchases of $99 or more). For more information about how the plans work, click on the link below.
The Undersink Water Ionizer Faucet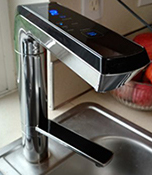 We really listened to consumers when designing the new IonPlus Undersink Water Ionizer. The biggest complaints for previous models were that the faucets were too small, the arms didn't swivel, they were made of plastic, and the controls were hard to use. With the IonPlus, you've got a faucet tall enough to put a large pot underneath it. It's also made out of stainless steel so that it is easy to clean and beautiful to look at. The top arm of the faucet extends well into your sink and swivels the entire length of your sink, making it easy to wash with the acidic water or cook with the alkaline water. The buttons are also easy to understand and push so even children and the elderly will have no problem using and enjoying the IonPlus.
Simple to Use Controls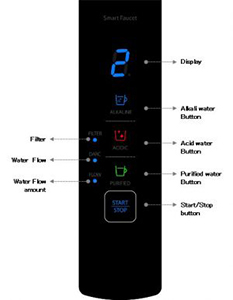 The controls on the IonPlus Undersink Water Ionizer are simple to use. There is an alkaline button, an acid button, and an on/off button. If you want water, you press the on/off button. You use the alkaline or acid water button to choose which pH level of water you want. Alkaline 3 is the recommended drinking water level because it creates a glass of water similar to what you'd find in a pristine spring or glacial stream. Alkaline 4 is the super-alkaline water button. You use super-alkaline water for cooking. It can neutralize oil-based stains so it can get the oil-based pesticides off of your fruits and vegetables. The acid water button can create two levels of acidic water. The acid 1 level is a mildly acidic water used for watering houseplants and spritzing on your face. The acid 2 level is a super acidic water that you can use to sterilize. Simply fill up a spray bottle and spritz super-acidic water around your kitchen and bathroom.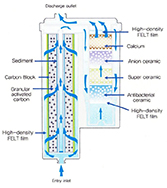 Advanced Filtration
The IonPlus offers an patented filtration system designed to give you a fresh and delicious glass of alkaline ionized water every time. First the water passes through a sediment filter to get the large particles of of your water, then it goes to activated carbon to remove chlorine, bacteria, and other common contaminants. Next, the water goes through a series of three ceramic filters each designed to target specific and difficult to remove contaminants such as heavy metals, fluoride, chloramine, and even leftover pharmaceutical drugs. The end result is purified drinking water ready to be ionized!