Revelation Turbo Undersink Water Ionizer
Manufactured by EOS Hi Tech, the makers of the Genesis Platinum and Genesis Equus, the new Revelation 2 Undersink Water Ionizer is the new standard in water ionization. Its luxurious, modern design will fit into even the most sophisticated kitchens, while it has the power to clean, revitalize and ionize even the toughest US water.
How would you like to have perfect ionized, antioxidant water without wasting space on your countertop? The new Revelation 2 Undersink TURBO Water Ionizer is the solution! From a spigot that's only ten inches high and two and a half inches wide, you get nine preset pH levels customizable to 76, a beautiful seven color LCD screen, pH and ORP display, filter life display, and convenient touch sensors to control it all.
The advanced nine plate and sixteen stages of filtration ionization system sits under your sink and out of the way. The medical grade filters clean up and revitalize your tap water, while the powerful electrolysis chamber ionizes your water to a perfect alkaline drinking water that's the healthiest water for you and your family to drink.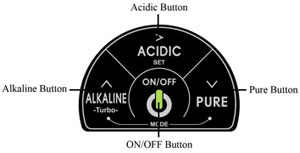 This is an investment that your whole family will enjoy and it is backed up with a five year unlimited parts, labor and shipping warranty and a 60 day money back guarantee. Water for Life USA has been distributing water ionizers for seven years and has a perfect rating with the Better Business Bureau, so you can order from us with confidence that you'll be treated right.
ONLY

$2,095.00
(SHIPPING INCLUDED)
JUST IN TIME FOR THE HOLIDAYS: 15% OFF ALL IONIZERS!
(Discount applied at checkout)